By Jake Clapp
F
rederick Douglass lived in Rochester for 25 years, and during his lifetime, the abolitionist, social reformer, speaker, and writer was a prominent figure in American political action and had important discussions about race and slavery with President Lincoln.
For much of the recent past, however, there's been a disconnect in what the larger Rochester public knows about Douglass. But thanks to a large, diverse group of local organizations, that's changing. More than 50 arts, cultural, educational, and civic groups — from large institutions to small neighborhood associations — have planned a year of events to celebrate Douglass's life and work in observance of the 200th anniversary of his birth.
The Frederick Douglass Bicentennial Commemoration Committee unveiled the events Thursday afternoon during a ceremony at Hochstein School of Music and Dance, the former church where a massive funeral service for Douglass was held. Officials of the City of Rochester and Monroe County also proclaimed 2018 as "The Year of Frederick Douglass."
In a lot of ways, committee organizers say, the Bicentennial Committee and the year's worth of events represent the culmination of long-building concern about the lack of awareness of Douglass's legacy and Rochester's place in his life. Born into bondage in 1818 — he chose February 14 as his birthday — Douglass escaped to freedom in 1838, and lived in Rochester from 1847 to 1872, publishing his newspaper, The North Star, here.
The Bicentennial Committee's efforts, led by Rochester Community Television and Rochester Contemporary Art Center, are part of a larger project, "Re-Energizing the Legacy of Frederick Douglass," which will include an art exhibit and the erection of statues of Douglass in public spaces.
It's extraordinary, says RCTV General Manager Carvin Eison, that "so many organizations, institutions, and individuals in this community have come together to celebrate Frederick Douglass and the legacy of what Frederick Douglass means, and to attempt to apply his ideology, his thinking, his writings, to the problems that we face as a community."
The city dedicated its New Year's Eve fireworks display to Douglass and is using a new Flower City logo incorporating his portrait. David Shakes and his theater company, The North Star Players, will perform "No Struggle, No Progress" at MuCCC, January 16 to 20; the Rochester Oratorio Society will perform "Frederick Douglass at 200" on February 16; and the Eastman Museum will host a lecture on Douglass and photography on February 10. The city is hosting more information about the committee and a calendar of bicentennial events at cityofrochester.gov/frederickdouglass200.
Work on the "Re-Energizing the Legacy of Frederick Douglass" project got started last year, Eison says, when there was a flash celebration at Douglass's grave site in Mt. Hope Cemetery for his 199th birthday. Eison and Bleu Cease, Rochester Contemporary's executive director and another of the Douglass celebration organizers, had worked together in 2014 when RCTV and RoCo hosted the video project"Question Bridge" and decided to work together again to plan a commemoration of Douglass's 200th birthday.
Eison says he just wanted to learn more about Douglass himself. He began doing research on Douglass and in the process met Ken Morris Jr., a descendent of both Douglass and Booker T. Washington and co-founder of the Frederick Douglass Family Initiatives. The support to launch a large celebration broadened out, from local arts and cultural organizations, the city, county, and media, and civic and social justice groups.
"We decided it would be a great collaboration for the creative community," Eison says, "to try and do something, to take the reins and attempt to celebrate and use this bicentennial to examine where we are in the world."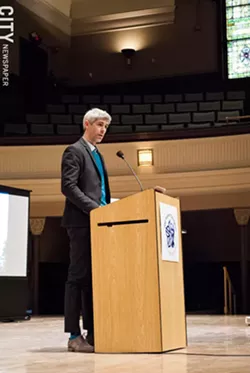 The "Re-Energizing" project will also center on two arts-related events: 
"No Soil Better,"
 an exhibition at RoCo of contemporary artists interpreting Douglass's legacy, and a series of life-sized statues, replicas of the Sidney W. Edwards sculpture of Douglass in Highland Park, that will be placed around Rochester. The 6-foot-tall statues will be made by artist John David Vincent and placed in locations significant to Douglass's life, and there are plans for a self-guided walking and driving tour of the locations.
The Douglass monument, the first statue in the US dedicated to a black person, was erected in 1899 in front of Rochester's New York Central Railroad Station. But in 1941, the statue was moved to Highland Park.
"I love the notion that the first civic-funded statue of an African-American in the country was at the center of the city," says Roco's Bleu Cease. "People were on a train coming through Rochester in the 1900's. They would see a statue of an African-American man. It's a profound bit of Rochester history. And I always felt it could be celebrated more."
This spring, the county will move the monument from its place in Highland Bowl to a more visible park location,at the corner of South Avenue and Robinson Drive. Before the move, on the evening of February 14, RIT's Big Shot team — a nighttime photography project — will organize a "Shine a Light on Douglass" event to create a photo that will be hung in RoCo's "No Soil Better" exhibition.
The "No Soil Better" exhibit will be up from February 2 through March 18 and will feature works by a range of artists to "update" Douglass's legacy and "engage with today's artists through today's technologies and techniques and media to make new, contemporary monuments," Cease says.
EDITOR'S NOTE: This article has been edited to update the number of organizations participating in the Frederick Douglass Bicentennial Commemoration Committee.